Interested in team penning or ranch sorting, or generally working cows but don't have the time (or cows) to practice? This is the perfect clinic for you! Whether you're already competing or just getting started with cow work, Free Spirit Farm is offering a Team Penning & Ranch Sorting Clinic, open to riders of all skill levels!  This two day clinic will give you insight into strategies to work and move cows and exercises to help improve your horse's cow sense.  We will also get plenty of practice penning and sorting! 
Stay Tuned For Our Next Cow Clinic This Winter!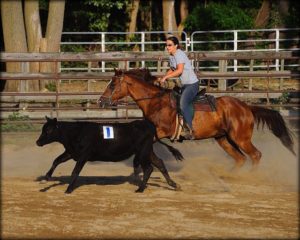 Free Spirit Farm is proud to host Cowboy Keith and our very own Lisa Vaccaro for a Team Penning & Ranch Sorting Clinic. Stabling and experienced riders are also available for hire. Breakfast and lunch is included. Please be prepared to provide a current Coggins (2yrs)  and shot record for participating horses.
Additional Information and Requirements
The clinic will start promptly at 9am. We ask those trailering in to arrive between 8am and 8:45am so we can get the trailers situated. All horses must have current Coggins and be up to date on vaccinations. If your horse is spending the night please bring his/her hay and grain. If you pre package your grain in Ziploc bags with your horses name we will be happy to feed him/her the mornings prior to the clinic when we feed our own horses. You will be responsible for bringing your horse's feed bucket and for mucking your horse's paddock. Rakes and wheelbarrows will be provided.