Free Spirit Farm is a family owned and operated farm located in Freehold, New Jersey since 1994. Our farm is a full-service horse training, and riding facility, complete with indoor and outdoor riding arenas, round pen, horse walker, and direct access to the New Jersey State Park trail system and Turkey Swamp Park.
Horse Training in Freehold NJ
Based in Central New Jersey, Free Spirit Farm offers horseback riding lessons, horse leases, and a range of training services. With a covered 150′ by 100′ indoor riding arena and a '200 by '175 outdoor area, Free Spirit Farm has plenty of space to ride.
Free Spirit Farm is managed by horse trainer and riding instructor, Lisa Vaccaro. Lisa has over two decades of experience working with horses as a former barrel racing champion, standardbred racehorse trainer, a former 4H leader and Drill Team captain. In addition to managing Free Spirit Farm, Lisa also offers riding lessons for clients of all skill levels and provides at-home training for clients with horses in Central New Jersey.
Upcoming Events at Free Spirit Farm
April 20 & 21, 2024: National Mounted Police Services De-Spooking Clinic at Free Spirit Farm!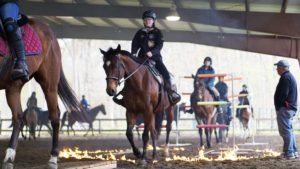 Free Spirit Farm will host Bill Richey of National Mounted Police Services, Inc., for another De-Spooking & Mounted Police Training Clinic on April 15 &16, 2023. Stabling and experienced de-spooking riders are often available for hire. Breakfast and lunch is included.
To register by mail, please save and print the registration forms that can be found here. All forms and deposits can be sent by mail to Free Spirit Farm, 187 Siloam Road, Freehold, NJ, 07728. For other questions and more information, please email [email protected].
Live Free. Ride with Spirit.
Horseback riding and horse riding lessons at Free Spirit Farm are offered by appointment only.